Latest News...
Aust Ch Daesdaemar Dream Girl ( Hayley) Bitch Challenge Winner Sydney Royal 2013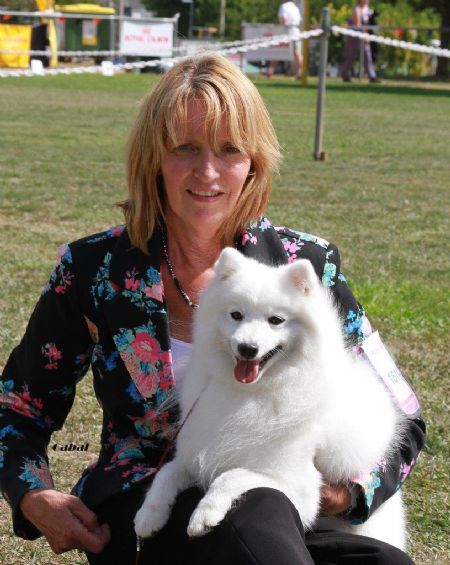 Aust Ch Daesdaemar Dream Girl (Hayley) Best of Breed Canberra Royal 2013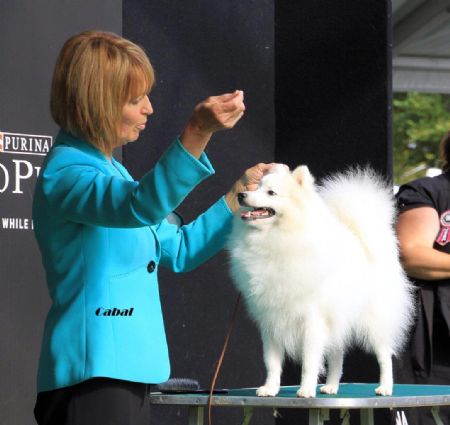 Mannerking Read All About It (Jake) Best Puppy Of Breed Sydney Royal 2013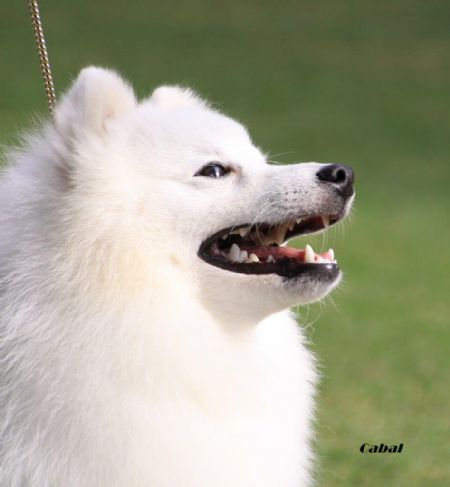 Jake
Introducing
Two new members of the Mannerking Show Team



Mannerking New Sensation (Toby)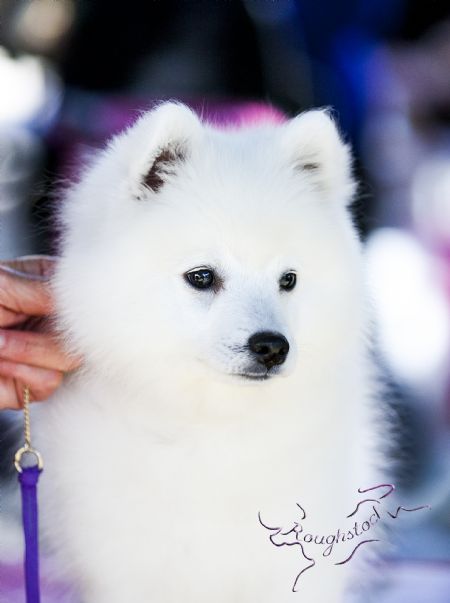 Mannerking New York (Emily)
Two Grand Champions pass away in 2012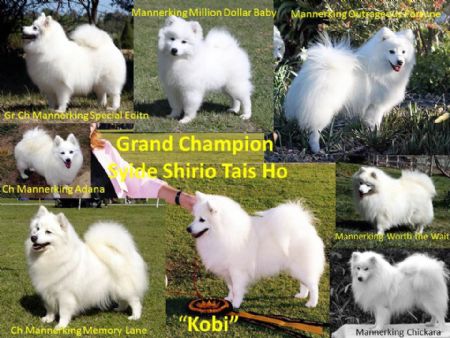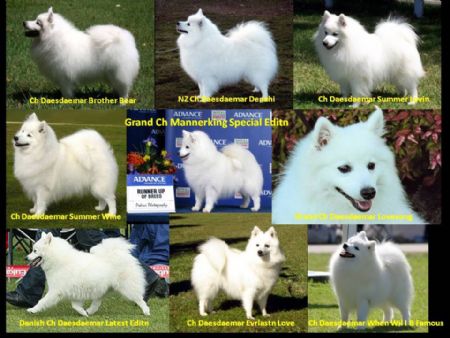 Kobi 04/09/1999 - 19/08/2012 Faith 20/11/2001 - 24/07/2012
These two beautiful dogs are no longer with us but have left us with some beautiful offspring.
We miss you both.
Latest news and Results at Mannerking...
Watch a video of our latest babies here, aged 4 months -
http://www.youtube.com/watch?v=7jg7z0w8JBk&feature=channel
Watch Morgan playing with Spitz pups...
http://www.youtube.com/watch?v=1galgUF3abA
2 litters featured - 3 babies from Ch Daesdaemar Summer Lovin to Ch Mannerking Second Editn and one from Ch Mannerking Kanjogaki to Ch Mannerking Memory Lane.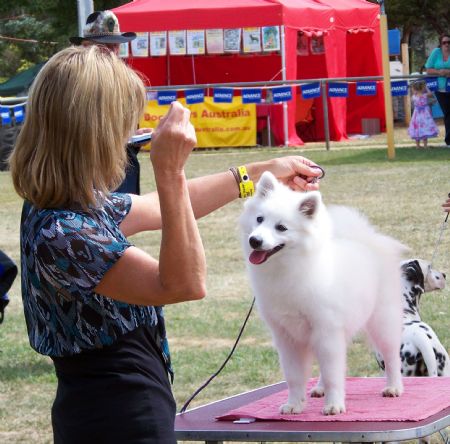 Sonny is competing for Baby Puppy in Show after winning Baby Puppy of the Day for Non Sporting Group.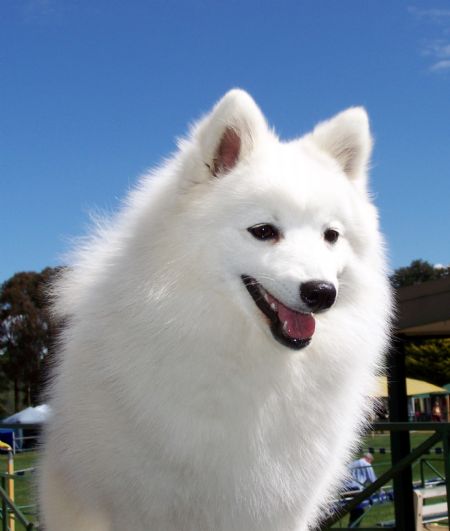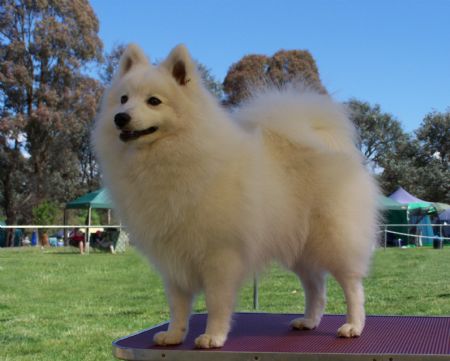 November 2008 - Melbourne Cup weekend in Canberra and Goulburn sees BB win 4 Best Minor in Group and 3 BEST MINOR IN SHOW AWARDS! Pictured above.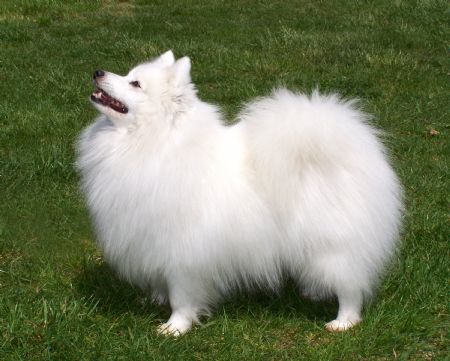 Mikomi also continues to well in the Neuter Classes, also pictured above.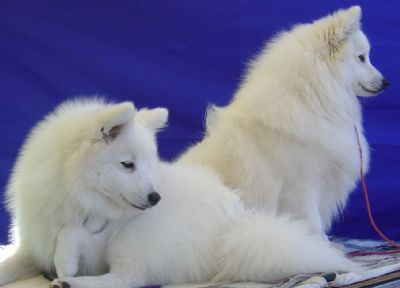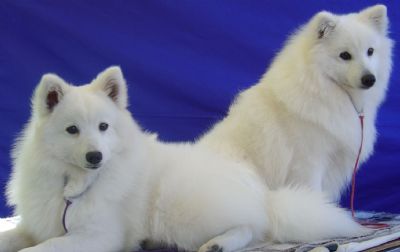 Lindsay and BB at the Canberra Show in September.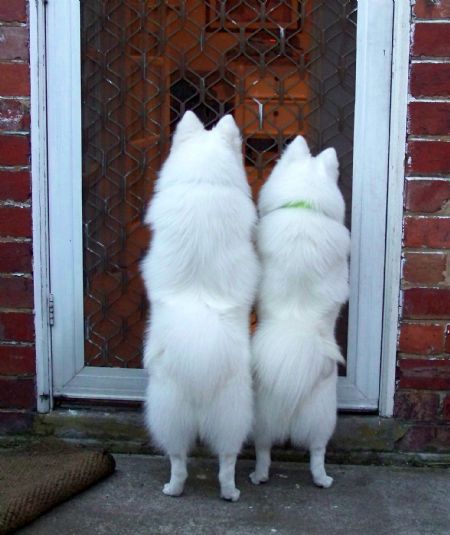 Also in September, BB and Angel attend the Melbourne Royal. Here they are at our accomodation, wishing they were inside!
10th August, 2008 - 1st weekend into Minor class and BB wins Runner up Best in Group today in Canberra. Looks like there is a bright future ahead for BB!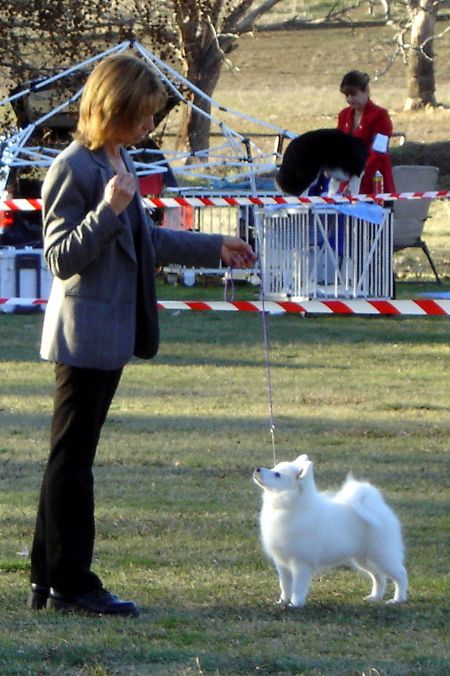 14th June, 2008 - BB's good form in baby class continues with a Best Baby in Group win today at Yass. She is pictured above in the General Specials ring.
11th May,2008 - New baby BB - Mannerking Crossing Jordan wins Best Baby Puppy in Show today at Cootamundra. This would mean BB is for "bloody beautiful"!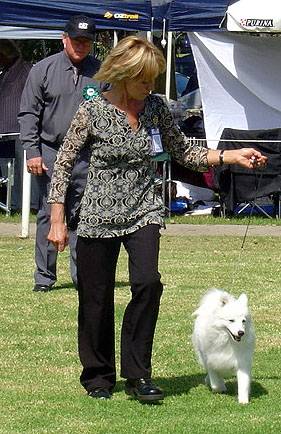 29th March, 2008 - Asian Breeds Dog Club in Sydney judged by Nigel Wood of Syide Kennels in Queensland. There was a great entry of 20 Japanese Spitz on the day, and again the dogs performed very well. Here is Logan during class judging.
28th March, 2008 - Sydney Royal Easter Show time! We made the trip to Sydney to compete at the Easter show. Youngsters Logan, Angel and Lindsay participated and everyone performed really well considering it was such a big day for them! Pictured above just before judging.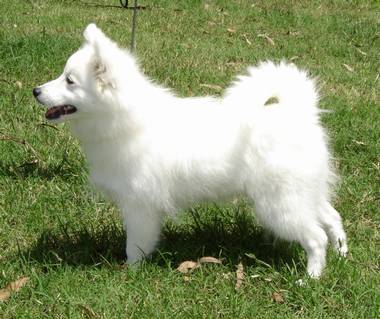 26th January, 2008 - Mannerking Dare Devil - Ky, continues to do well for owner Rex. He is shown now aged 4 months, with his adult coat just starting to grow.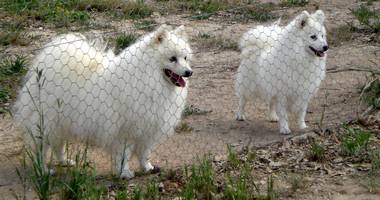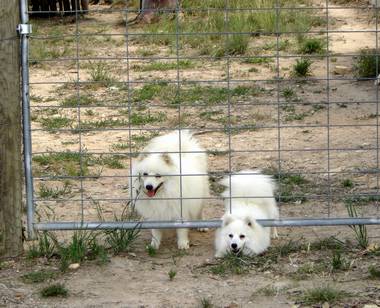 29th Decemeber, 2007 - Mason and daughter Angel want to join in the fun of Debbies 50th Birthday bash - snapped while observing the celebrations from afar!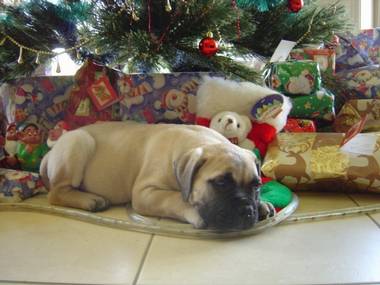 23rd December, 2007 - Christmas comes early at Mannerking when Santa brings a big bundle for Mick! Morgan aka Bullsrkool Shes So Smooth is the newest addition and first venture into Bullmastiffs.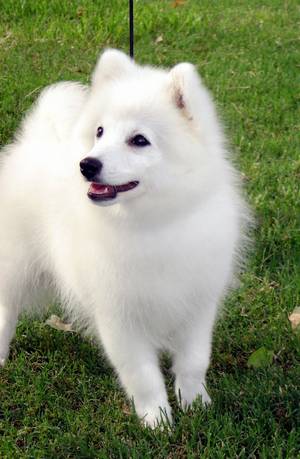 22th December, 2007 - Pictures of the new boys, now aged 3 1/2 months. Above is Logan - Mannerking Just A Devil, shown by Mannerking. Below is his brother Ky - Mannerking Dare Devil, owned and shown by Rex Blatch.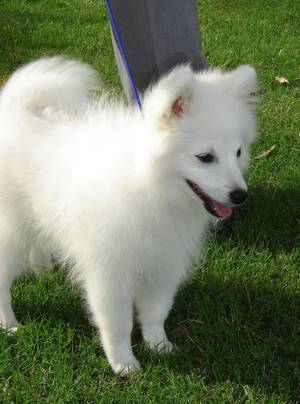 8th December, 2007 - The new baby boys make their debut. Mannerking Dare Devil - Ky, takes out first place for new JS exhibitor Rex, and Debbie has Mannerking Just a Devil - Logan. These boys are full brothers to the lovely Angel.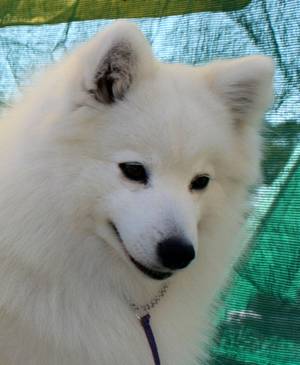 3rd November, 2007 -Priscilla wins another Best Intermediate in Group award today at our local Goulburn Show.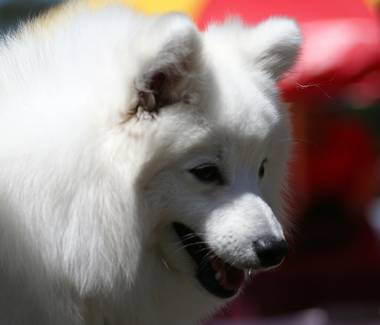 October and November, 2007 - Angel continues her good form with a string of Bitch challenges - those points are stacking up!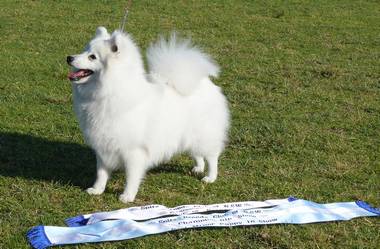 14th October, 2007 - Today was the Spitz Breeds Club of NSW, judged by Mr G Nordahl-Pedersen of Norway. He was very taken by Angel and awards her another Best of Breed, and she goes on to win another Best Minor Puppy in Show! What a wonderful win, especially for such a young girl. She is pictured above with her ribbons!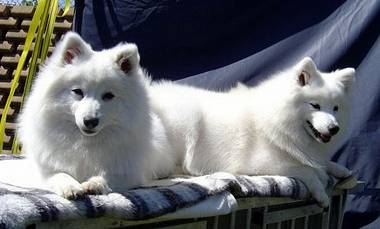 28th September - 1st October, 2007 - Canberra Canine Carnival over this long weekend with International and Interstate judges. The girls have been having a wonderful time with Priscilla taking out another Best Intermediate in Group, and Angel winning 3 Best Minor Puppy in Group awards and onto one Minor in Show as well. She even managed to pick up a good Best of Breed...better watch out Prissy!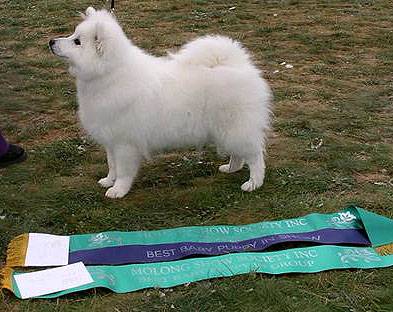 16th September, 2007 - Lyndsay - Mannerking Drama Queen, has been enjoying a showing holiday with Carolyn Williams of Snowillo. They have had many Baby in Group wins, but today they acheived Best Baby Puppy in Show at Molong Show Society. Well done to both of you! She is pictured above.
1st September, 2007 - Priscilla participated in the Breeders Group Sweepstakes at Dalwood International Charity Dog Show for Daesdaemar - and the team wins First Place!! The dams of these dogs are Ch Mannerking Memory Lane and Gr Ch Mannerking Special Editn.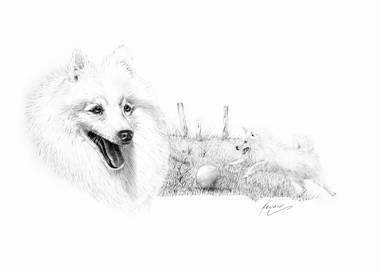 August, 2007 - the wonderful Limited Edition print, recently commissioned by Mannerking, is finished! And it looks fantastic...many thanks to Bevan Badcott. This print is available from www.pencilspixelsandpaint.com and would be a prize possesion in any Japanese Spitz fanciers collection!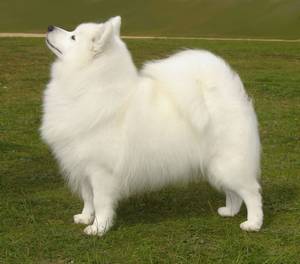 11th August, 2007 - At the ACT Ladies KC, Priscilla above scores her first Runner up Best in Group award!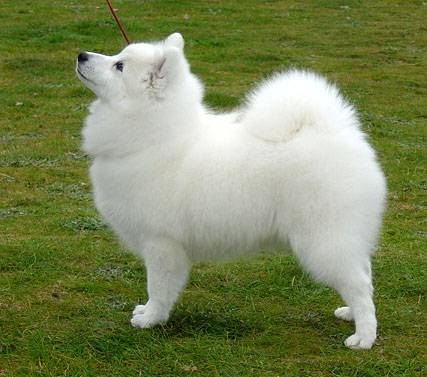 28th July, 2007 - Angel wins another Best Baby Puppy in Group at Harden-Murrumburrah, over 5 baby Japanese Spitz and them over all the other babies in the Group. Pictured above.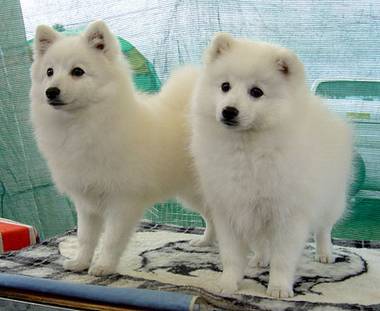 July, 2007 - Angel is growing into a gorgeous young lady and continues to well in the showring - she is pictured on the left. Also pictured, on the right, is new baby Mannerking Drama Queen - Lindsay, also a Mason daughter. She will soon to make her showring debut with Carolyn Williams.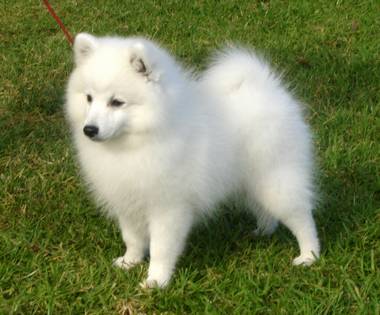 June, 2007 - Masons first baby, Angel - Mannerking Simply An Angel makes her debut with great results. Already a Best Baby Puppy in Group winner.
17th April, 2007 - At the Sydney Royal Easter Show, Priscilla wins 1st Champion Bitch and Runner Up Best of Breed.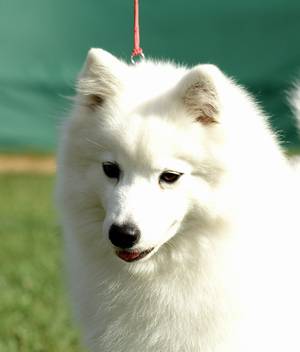 March 2007 - Priscilla - Ch Daesdaemar Summer Wine pictured above, returns to the showring after her babies with some good results, including Class in Group wins.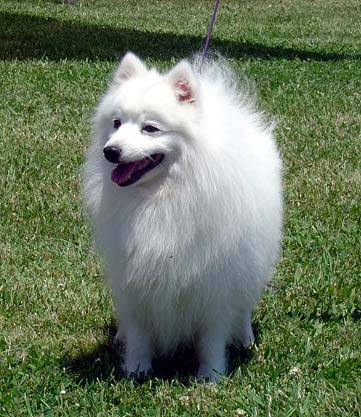 25th Nov, 2006 - Mason, Champion Sziada Tropical Mirage comes to live at Mannerking. Mason brings with him some exciting new bloodlines. See his profile on My Dogs page.
28th Oct, 2006 - Zabe wins another Baby in Group at Goulburn K & TC under Mrs R Schuck (ACT) and Chance wins Baby in Group on Sunday under Ms J Ford.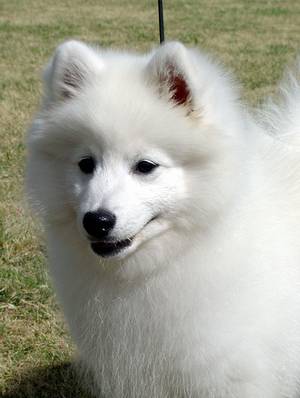 22nd Oct, 2006 - Zabe wins Best Baby Puppy in Group at Southern Highlands KC under Mrs M Boyd (NZ).
29th Sept, 2006 - Priscilla becomes a mum for the first time. 2 boys and 3 girls sired by Bill, Champion Mannerking Kanjogaki.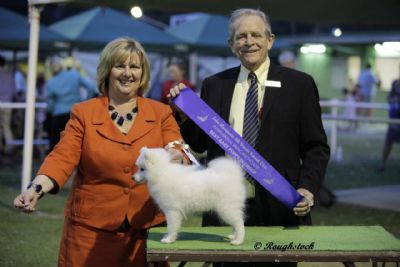 Mannerking Read All About It (Jake) Winning a Baby In Group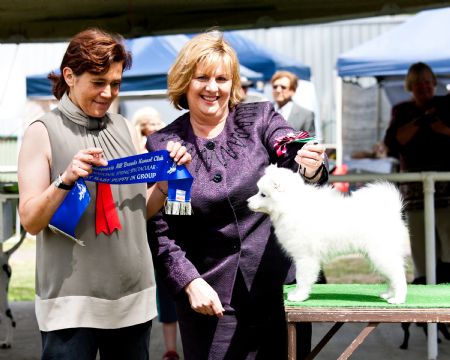 Mannerking Read All About It (Jake) Winning a second Baby In Group